Because I Said So
Theatrical Release:
February 2, 2007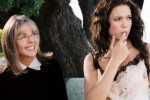 Synopsis
In a comedy that explores when it's finally time to cut the apron strings, director MICHAEL LEHMANN (The Truth About Cats and Dogs, 40 Days and 40 Nights, Heathers) brings four powerhouse actresses together in one film — Because I Said So.
In order to prevent her youngest, Milly, from making the same romantic mistakes she did, Daphne decides to set her up with the perfect man. The one thing Daphne decides not to tell Milly, however, is that she placed an ad in the online personals to find him. If anyone knows exactly what her daughter does and doesn't need out of a long-term relationship (or clothes or her career), it's Daphne. Comic mayhem unfolds as the well-intended mom continues to do the wrong thing for the right reasons…all in the name of love for her beloved daughter.
Dove Review
Diane Keaton has some genuinely funny moments in this film. She plays her role to perfection as the over-protective and interfering mom with a big heart. The film is pretty well directed and the story of the mother trying to find a prospective husband for her daughter, so she doesn't end up like herself, is interestingly told. However, it is in the language and sex areas of content that the film fails to make the grade as a family-friendly film. Couples have sex before marriage and there are many sexual innuendos in the film. One character dates two different men and has sex with both of them at different times. The language also goes overboard. It's too bad. "Because I Said So" doesn't, unfortunately, say the right things for families.
Content Description
Sex:
Implied pre-marital sex on several occasions, partially shown on screen; strong sexual innuendos, the sound of a porn site playing on a computer, twice--family dog hears it and sees it and humps chair.
Language:
OG/OMG-too many to count; GD-1; Possible J (not distinct)-1; A-3; For God's Sake-3; D-1; Pen*s-2; Va*ina-2
Info
Company:
Universal Pictures
Writer:
Karen Leigh Hopkins and Jessie Nelson
Reviewer:
Edwin L. Carpenter