Ghost Rider
Theatrical Release:
February 16, 2007
DVD Release:
June 12, 2007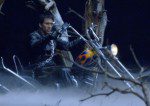 Synopsis
In order to save his dying father, young stunt cyclist Johnny Blaze sells his soul to Mephistopheles and sadly parts from the pure-hearted Roxanne Simpson, the love of his life. Years later, Johnny's path crosses again with Roxanne, now a go-getting reporter, and also with Mephistopheles, who offers to release Johnny's soul if Johnny becomes the fabled, fiery Ghost Rider, a supernatural agent of vengeance and justice. Mephistopheles charges Johnny with defeating the despicable Blackheart, Mephistopheles's nemesis and son, who plans to displace his father and create a new hell even more terrible than the old one.
Dove Review
This film is very visual. The images of the blazing skull head on top of Johnny Blaze's body as he travels by motorcycle in his role as "the devil's bounty hunter," are stunning. There are some good performances in the film, including Peter Fonda as a cunning devil, Nicholas Cage as Johnny Blaze, and Sam Elliott in his role which has a twist to it.
However, there are far too many demonic-type scenes, skulls, people being burned to toast, vampire faces with fangs, and red glowing eyes for Dove to approve this film for family viewing. It would definitely scare some young children. At one point several demons take over an evil man and proclaim, "We are Legion," a Biblical quote about a man who was possessed with many demons. Johnny sells his soul to the devil to save his dad and later regrets it. He attempts to regain his soul which does produce a good statement from Sam Elliott's character, who says if people do enough to help other people, perhaps God will be on their side. The movie also has some strong language in it which, along with the issues already mentioned, prevents it from being under Dove's umbrella of wholesome family films.
Info
Company:
Sony Pictures Home Entertainment
Reviewer:
Edwin L. Carpenter