The Story Keepers Collection: Volume 3
Theatrical Release:
February 27, 2007
DVD Release:
June 1, 2007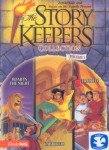 Synopsis
Enjoy 3 episodes on 1 DVD of action-packed adventures!
The Year is A.D….and in Rome, the church faces fierce persecution. Driven into hiding Christians gather wherever it's safe. At secret meetings, they learn about Jesus of Nazareth – thanks to courageous leaders known as The Story keepers.
Episode 7: Roar in the Night: Two lion cubs have escaped, and Crassus, Nero's head animal trainer, is furious. Where could they be? Marcus knows and he's fallen in love with his two newfound pets. Will Ben and Helena be able to get the furry fugitives out of Roman before they are recaptured? See the fun begin when they attempt their daring rescue plan.
Episode 8: Captured!: Cyrus' acrobatic talent turns him from Roman captive to the star of the show. At last Cyrus is in the spotlight and enjoying a life of luxury in the home of his new "friend", Flavian the merchant, until the slaves revolt. Suddenly Cyrus is trapped and he only has his true friends to count on, but is it too late? Can love redeem the ungrateful Cyrus?
Episode 9: Trapped!: The Emperor Nero is having a birthday party, but Tacticus is not in a festive mood. He faces a though choice – worship Nero as a god and recieve a promotion or stay true to his faith and risk death! With Ben and the gang to the rescue, his worries are over…or have they just begun?
Dove Review
"The Story Keepers" are wonderful, short half-hour episodes which follow some of the underground Christians in Rome during 64 AD. These are great stories and capture the attention of both young and old. If you are looking for some wholesome adventures this is the series for you. My four and two-year old were captivated and it opened up the door for them to ask more questions about Jesus.
These short stories are a teaching tool whether it be for the home, church or school. These episodes will discuss the shepherd and the lost sheep, healing of the deaf and dumb, widow giving: a greater gift, healing of the centurion's servant, protocol's son, Jesus' Triumphal Entry, and the master and his vineyard. I hope you enjoy these stories as much as we did.
Info
Company:
Zondervan Publishing House