My First Words: English/Spanish
Theatrical Release:
February 27, 2007
DVD Release:
November 18, 2005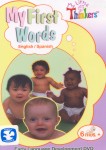 Synopsis
This language development program for children three and under was designed as an introduction to simple nouns and verbs in both English and Spanish. Parents can select from various play options: English only, Spanish only and bilingual English and Spanish. The words are presented on screen along with vivid, real-world footage and engaging infants to capture your child's attention. Each word is spoken and then used in a sentence. Since repetition is a key in language development, a captivation review is included following each word group. A bonus section is included the reviews numbers 1 – 10.
Dove Review
"My First Words" is a wonderful, compact movie that introduces babies and kids to language. The added bonus in this movie is that along with English words and sentences, each is also repeated in Spanish and then reviewed again after each section. "My First Words" is somewhat similar to the popular "Baby Einstein" videos, but definitely has its own unique quality and presentation. One fantastic thing I noticed was that almost all of the video used had been shot outside. What a great nonverbal message to get outdoors, enjoy the fresh air and get active!
The movie is divided into five sections: nature, animals, objects, verbs and numbers. Each is filled with beautiful video, colors and music that are sure to keep the attention of your little one. It is geared toward infants, toddlers and young children, but I found it easy to stay interested as I tried to pick up a few new Spanish words. Dove happily approves "My First Words" as a family friendly movie and as wonderful stepping stone toward becoming bilingual!