Stellaluna
DVD Release:
December 1, 2004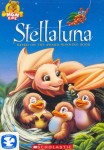 Synopsis
Based on the beloved children's book, this fun-filled, animated musical feature follows the story of adorable fruit bat Stellaluna, who is separated from her mother and adopted by a family of birds! But when Stellaluna can't fit in, she realizes she'll have to learn to cherish the things that make her different.
Dove Review
The endearing children's story of "Stellaluna" the fruit bat comes to life in this cute animated movie. The entire story that is in the book is in the movie, with a few new characters for added fun. A jumping, super-hero spider vows to be Stellaluna's bodyguard and two fashionable parrots try and give her advice on becoming a better "bird".
With some catchy songs to give it a nice boost, this is a cute story about an "orphaned" fruit bat who tries to fit-in in a bird's world that is upside-down to her. The only aspect that may be a tad scary for young toddlers is when an owl tries to attack the bats and then when the bats chase the owl away. Stellaluna sings a sad song about not fitting in and says she feels like a "freak", but other than it is a wonderful movie for kids of all ages.
Info
Industry Rating:
Not Rated