Black Snake Moan
Theatrical Release:
March 2, 2007
DVD Release:
June 26, 2007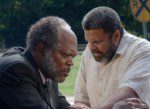 Synopsis
There was a time when Lazarus (SAMUEL L. JACKSON) played the blues; a time he got Bojo's Juke Joint shakin' back in the day. Now he lives them. Bitter and broken from a cheating wife and a shattered marriage, Lazarus' soul is lost in spent dreams and betrayal's contempt…Until Rae (CHRISTINA RICCI).
Half naked and beaten unconscious, Rae is left for dead on the side of the road when Lazarus discovers her. The God-fearing, middle-aged black man quickly learns that the young white woman he's nursing back to health is none other than the town tramp from the small Tennessee town where they live. Worse, she has a peculiar anxiety disorder. He realizes when the fever hits, Rae's affliction has more to do with love lost than any found.
Dove Review
Although it doesn't seem like much good could come out of a movie about a young woman who is a sex addict, "Black Snake Moan" actually has a very positive message. Unfortunately, the way in which the message is delivered is far from family friendly.
A man named Lazarus ends up being the only positive adult role model that a troubled young woman has ever had. He tries to "cure" her of her sex addiction by keeping her in his house, at first against her will and by means of a large chain wrapped around her waist. He brings a preacher to talk with the young woman, and it is obvious that he has only the best intentions toward her. Lazarus probably wouldn't fit some peoples' definitions of a good role model, as he has a tendency to drink heavily. There is a lot of drinking in the film, as well as a lot of sexuality, including explicit sex scenes. Also, the language leaves something to be desired. But, despite the fact that "Black Snake Moan" is far from being Dove approved, at least in this case Hollywood is trying to show that people can help each other for the better.
Info
Company:
Paramount Vantage