Lewis and Clark: Great Journey West
Theatrical Release:
February 23, 2007
DVD Release:
May 18, 2004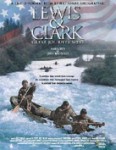 Synopsis
In 1804, two American military officers, Merriweather Lewis and William Clark, were given an assignment by President Thomas Jefferson — to explore the uncharted areas of the land known as "the Louisiana Purchase," a massive stretch of 8,000 miles from St. Louis to the Western Coastline. Lewis and Clark hoped to find a Northwest Passage, which would link the Atlantic and Pacific ocean, but along the way they discovered the sources of some of America's greatest beauty and wealth. They also found hardship, but survived thanks to the compassion of trapper Toussaint Charbonneau and his wife Sacagawea, a Native American. Lewis and Clark were presumed dead until they made their way back to civilization in 1806, with details of one the greatest adventures in American history. Lewis and Clark is a documentary produced by National Geographic Video which follows the incredible journey of these pioneering explorers. Jeff Bridges narrates.
Dove Review
There aren't a great many G-rated films opening at theaters these days, so it was a treat to watch this IMAX film on the history of Lewis and Clark. This film can be viewed by the entire family. The scenery is awesome and breathtaking, including snow-capped mountains and camera sweeps rising to peaks and then beyond the peaks. The green woods and cool rapids, snowy fields and rocky cliffs make for a feast of nature for the viewer's eye.
Jeff Bridges does a nice job narrating, his pleasant voice enhancing and not detracting from the narrative. The actors fit into their various roles like hands in gloves, depicting Lewis and Clark and their expedition in addition to Native Americans. The historical facts which refer to various dates of the expedition and to tribes like the Teton Sioux, were interesting to hear and it was nice to learn that Lewis and Clark remained life-long friends. One of the highlights of their journey for Lewis was his discovery of many plants and animals, and for Clark the many new maps he made as a result of the expedition. We heartily approve this film for everyone in the family and we award five doves to this pleasant viewing experience.
Info
Company:
National Geographic Home Video
Reviewer:
Edwin L. Carpenter