I Think I Love My Wife
Theatrical Release:
March 16, 2007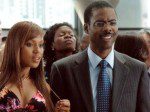 Synopsis
"I Think I Love My Wife," written, directed by and starring Chris Rock, is a sophisticated comedy about marriage and the lure of a new love. Nikki (Kerry Washington) is the exciting free spirit who makes Richard's (Chris Rock) daydreams come true while Richard's wife Brenda (Gina Torres) is so preoccupied with her own career and raising their two children that she has little time for her husband.
Dove Review
In the world today, there are probably some married couples that are bored with their lives and think life might be better if they were single. This story is about one couple that is in a rut. Chris Rock is very believable as the husband just looking for more excitement. The basic story is good but because of the sexual content and over the top language there is no way that this can be approved.
Content Description
Language:
F-63; GD-3; A-7; S-16; B-6; Many Racial slurs; Descriptive words regarding different body parts.
Nudity:
Many women dress provocatively, woman in undergarments; naked woman on computer screen; woman's Lingerie shown;
Info
Company:
Fox Searchlight Pictures
Writer:
Chris Rock and Louis C.K. and Eric Rohmer