Pride
Theatrical Release:
March 23, 2007
DVD Release:
June 26, 2007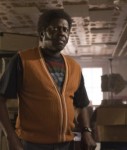 Synopsis
The year is 1973, and Jim Ellis (Terrence Howard), a college-educated African-American, can't find a job. Driven by his love of competitive swimming, Jim refurbishes an abandoned recreational pool in a down-at-its-heels Philadelphia neighborhood with the help of its custodian Elston (Bernie Mac). But when the pool is marked for demolition, Jim fights back — by starting the city's first African-American swim team. Recruiting teens from the streets, Jim struggles to transform a motley team of novices into capable swimmers — all in time for the upcoming state championships. But as racism, violence and an unsympathetic city official threaten to tear the team apart, Jim must do everything he can to convince his swimmers that victory, both in and out of the pool, is within their reach.
Dove Review
Recently, there has been a strong trend appearing in your local cineplex–films that actually inspire audience members to look at their surroundings and take a small step toward improving their condition. These stories are typically about average people who motivate others by a simple desire to live in a better world. The life lessons that they have learned about respect, discipline and dedication to something they believe in draws others out of their comfort zones and unites the common man to do the right thing – just because it's right. "Pride" doesn't disappoint in this endeavor. Struggling against all odds, the kids in this film band together and support each other and learn Pride, Determination, and Respect.
While the film's creators took great care to avoid many objectionable words and phrases in a desire to make this film as family friendly as possible, we do have to strongly caution parents that the situations faced and language used is sometimes raw and uncomfortable. However, we feel that the events portrayed and profanities spoken were not gratuitous. Rather, they clearly show the stark reality of the racism and attitudes of both sides during a troubling time of growth in our country's recent past.
Info
Writer:
Kevin Michael Smith and Michael Gozzard