Peaceful Warrior
Theatrical Release:
March 30, 2007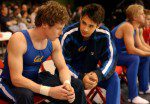 Synopsis
A moving tale about the power of the human spirit, Peaceful Warrior is based on Dan Millman's perennially best-selling autobiographical novel, Way of the Peaceful Warrior.  In the film, Scott Mechlowicz plays Dan, a talented-yet-arrogant college gymnast with Olympic dreams and a golden future.  The athlete thinks he has it all: bookcases of trophies, endless friends, fast rides and disposable relationships.  But all that is about to change.
 
One day, Dan's world is turned upside down after a chance meeting with a mysterious stranger he comes to know as Socrates (Nick Nolte)—a man who holds the power to tap into new worlds of strength and understanding.  After he suffers a debilitating injury, with the mystical help of Socrates and an elusive young woman named Joy (Amy Smart), Dan will grow to realize that strength of spirit is what leads a man to his true greatness.
Dove Review
This inspirational film based on the real life experiences of Dan Millman is not for the faint of heart. This two hour film seemed to drag but when it was suspenseful, it was so much so that it left my own palms sweaty. Nick Nolte is simply spectacular in this film as "Socrates," the man who helps Dan through his journey. The common inspirational theme of "know thyself" is accomplished through discipline and philosophical questions, but the large amount of language and sexuality diminished the inspirational quality for me. Because of these two elements, the film is not recommended for families.
Content Description
Sex:
Three instances of unmarried couples in bed or making out; one instance of two women kissing, sexually explicit joking.
Info
Writer:
Kevin Bernhardt and Dan Millman