Chitty Chitty Bang Bang
Theatrical Release:
June 15, 1991
DVD Release:
December 4, 2007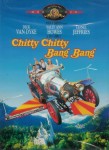 Synopsis
This remastered kiddie-car caper is flawed but solid family fare. It retains a quaint charm while some of the songs–including the title tune–are quite hummable. A huge plus is Dick Van Dyke, who is extremely appealing as an eccentric inventor around the turn of the century. With nimble fingers and a unique way of looking at the world, he invents for his children a magic car that floats and flies. Or does he? The special effects are tame by today's standards, and the film is about 20 minutes too long–but its enthusiasm charms. The script was cowritten by Roald Dahl and based on the novel by Ian Fleming, best known for his James Bond adventures.
Dove Review
This is a delightful movie. How can you go wrong with such songs as "Toot Sweets" and "Chitty Chitty Bang Bang"? Dick Van Dyke is excellent as the eccentric inventor in the film and this classic movie still retains its charms. With villains to overcome, a budding romance between Potts (Van Dyke) and Truly (Sally Ann Howes), and memorable songs easy to hum, this film is a treat.
The movie surprisingly contains one strong word and we therefore award our Dove Seal to it for ages twelve plus. Climb on board, take flight with this eccentric car and inventor, and go on a journey which will take you to faraway places.
Info
Company:
MGM/UA Home Video
Writer:
Roald Dahl and Ken Hughes
Reviewer:
Edwin L. Carpenter