Totally Trucks Presents: Garbage Monsters
DVD Release:
June 1, 2007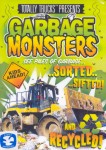 Synopsis
Garbage Monsters shows kids what happens after the garbage truck leaves the street. They visit a recycling plant, a landfill and a green waste site. They meet a Compactor, a Bulldozer and Snaggletooth Loader. By the time they're through, they will be able to pick out a circle, an oval, a square plus many other shapes. Wow, it sure takes a lot of shapes to make a truck!
Each Totally Trucks(TM) episode uses trucks to teach a skill – spelling, counting and shape identification. But Kids don't even think they are learning, they are just having fun.
Dove Review
Totally Trucks" Is a great series of videos for entertaining your children. Both of my children ages 2 and 5 loved the "Garbage Monsters" being able to see all the trucks up close and how they work really kept them interested. They learned the names of many different trucks and how they are used. The video also incorporated Shapes. "Garbage Monsters" seemed to have a little more going on during the video than the other "Totally Trucks" videos, "Garbage Monsters" not only showed you different trucks but also how to recycle and where the garbage goes after it is taken away from your house.The music was appropriate and very enjoyable.
The video is great for young children, however I could see older children and adults getting a little bored with them as they do have a lot of repetition, although "Garbage Monsters" does not have as much repetition as the other "Totally Trucks" videos. The producers of this video did a great job of making a wholesome child-oriented film that not only entertains young children but also helps them learn about different trucks and shapes. They ask the children to find different shapes on the trucks and it is a great way to get the children involved.
Info
Company:
Lolo Productions