Christy – The Complete 19 Episode Series
Theatrical Release:
April 3, 1994
DVD Release:
March 20, 2007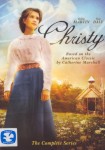 Synopsis
Nineteen-year-old Christy Huddleston (Kellie Martin) has lived a life of luxury in her cosmopolitan, turn-of-the-century hometown. Determined to reach beyond her sheltered world to help others, however, the headstrong schoolteacher heads for the impoverished Great Smoky Mountains of Tennessee to teach in a remote schoolhouse. As she grapples with the ignorance and poverty of the members of her new community, she strives to make a difference in the lives of the children she teaches. And when she finds herself emotionally torn between two men. Christy looks to her faith to guide her in this compelling and thoroughly moving series.
Dove Review
Episodes – PILOT: Christy learns the meaning of forgiveness. Minor language. LOST AND FOUND:Christy contemplates teaching the children hygiene. Mild language and a man punches a teen student. BOTH YOUR HOUSES: This episode deals with superstition and child abuse. Some blood is shown from an injured man and a man repeatedly kicks his teenage son. A CLOSER WALK: David struggles in this episode with pride and forgiveness. Someone vandalizes a horse. JUDGMENT DAY:The residents of Cutter Gap struggle with how to be critical yet kind. A tiny bit of blood is shown from an injured resident. EYE OF THE STORM: Alice battles anger towards Christy. AMAZING GRACE: This episode focuses on an unexpected visitor and a man comes to the mountain under false pretenses. There is mild language and a small fistfight. THE SWEETEST GIFT: Christy's father visits and town residents learn about the meaning of Thanksgiving. A boy makes ignorant comments about Indian population but he is corrected. TO HAVE AND TO HOLD: Christy receives a wedding proposal. A courting couple kiss. The HUNT: Christy deals with jealousy regarding the attention David's friend receives. There is the death of a pet and a discussion about what happens when a pet dies. A MAN'S REACH: Christy struggles with the issue of whether her college-bound student is attending for her. A female student deals with the issue if equality. A man's hand is crushed in a mill but no blood is seen. GHOST STORY: The history of a ghost story is the focus and a girl's reunion with her father is not what she had hoped for. A girl is slapped across the face by her father. ECHOES: Miss Alice and Christy visits the site of Miss Alice's early mission work. The Ku Klux Klan have rifles and a burning cross is shown. A chracter tricks a man into getting drunk. THE LIE: Residents of Cutter Gap must decide who to believe when a lie is spread. There is mild language and a little girl is attacked by bees and is covered with welts. GREEN APPLES: As children begin to fall ill, some people react with anger and attempt to place blame. THE HOSTAGE: Three chracters including Christy are taken hostage. A man is shot and there is blood shown. There is a fist fight and several scenes with men and guns. BABE IN THE WOODS: Christy cares for a found baby and contemplates forgiveness and a past marriage proposal. Mild language. SECOND SIGHT: A man offers to buy land from the residents and Christy believes the residents might need other things for a better life. David punches out a drunk man. There is discussion of foresight. THE ROAD HOME: Some of the men of Cutter Gap visit El Pano where they visit dancing women at a house of ill repute. Christy struggles with her feelings for David and Neil. A couple kiss.
Info
Company:
20th Century Fox Home Ent.
Writer:
Patricia Green and Catherine Marshall
Industry Rating:
Not Rated