Grindhouse
Theatrical Release:
April 6, 2007
DVD Release:
September 18, 2007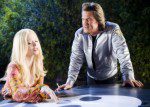 Synopsis
They are two of Hollywood's greatest directors – and now, for the first time – sort of, they're directing a movie together. Quentin Tarantino and Robert Rodriguez take on separate films in Grindhouse.
Grindhouse – noun – A downtown movie theater – in disrepair since its glory days as a movie palace of the '30s and '40s – known for "grinding out" non-stop double-bill programs of B-movies. A double-bill of thrillers that will recall both filmmakers' favorite exploitation films. Welcome to the Grindhouse – it'll tear you in two.
It's the second time they've worked together, the first on Robert's Sin City, where Quentin helped co-direct. In Grindhouse, Robert directs the zombie-filled, torture fest, Planet Terror. Naveen Andrews, Freddy Rodriguez, and Rose McGowan star. Quentin brings aboard Kurt Russell to his in Death Proof; Kurt plays the wild and crazy Stunt man Mike.
And not only are we treated to two films in one, during the breaks of the films, there are three different trailers – fake trailers directed by Eli Roth (Thanksgiving), Edgar Wright (Don't), Rob Zombie (Werewolf Women of the SS), and Robert's (Machete).
Dove Review
"The Grindhouse" is actually two movies; "Planet Terror" is about psychotic killer mutants, and "Death Proof" is about a killer stunt driver whose weapon of choice is his muscle car. Both of these movies are some of the most graphically violent films I have seen. For instance, "Death Proof" has a car crash scene that is so graphic I actually had to look away from the screen; I thought I had seen it all, but these movies were a bit much even for me.
"Planet Terror" is the gorier of the two films. A biochemical agent causes people to turn into cannibalistic mutants, repulsively deformed and covered in pustules and dripping ooze. The zombie movie plot has been regurgitated so many times, and "Planet Terror" does it again, just with slightly more disgusting special effects. Add to that a bunch of scantily clad women who really have no purpose as characters except to be sexy, and you pretty much get the idea.
The plot of "Death Proof" doesn't fare much better; the first half of the film is extremely slow and basically consists of a bunch of young, beautiful women hanging out in a bar and getting drunk. There is also a scene just like the opening scene in "Reservoir Dogs," where a group of women are sitting in coffee shop talking. If you have seen "Reservoir Dogs," you feel like you have seen this already, and it's pretty boring. The only good thing I can say about either of the two films is that the car chase scene in "Death Proof" is the coolest car chase scene I have ever seen in a film. No part of "The Grindhouse" is suitable for families, and is not approved by Dove. Below we list content for both "Planet Terror" and then "Death Proof."
Info
Company:
The Weinstein Company LLC
Writer:
Robert Rodriguez and Quentin Tarantino
Director:
Robert Rodriguez and Eli Roth