The Case for Christs Resurrection
DVD Release:
December 1, 2007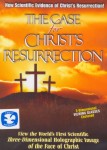 Synopsis
This documentart investigates the historical record, draws upon medical knowledge, searches for evidence in the lives of the Apostles, explores ancient Jewish burial customs and – with new scientific technologies – examines the 2000 year old burial cloth of Christ. For the first time through physics and space-age imaging, scientists are able to view the crucified body of Christ in a three-dimensional, holographic image. Learn what scientists have discovered. Your Faith will be strengthened!
Dove Review
This is a fascinating look into the resurrection of Christ, from both a Biblical and scientific perspective. The film uses 11 Peter 1:6 regarding the eye witnesses of Christ's resurrection. In addition, it incorporates other witnesses, including Jewish historians such as Josephus. The Shroud of Turin is examined carefully, including the shroud in a 3D image. A cloth stained with blood which resides in Spain corresponds to the wounds of the man's image on the Shroud of Turin. Learn more about this and other interesting facts in this inspirational and well made video. We recommend the video for the entire family.
Info
Company:
Grizzly Adams Prod., Inc.
Reviewer:
Edwin L. Carpenter