Pathfinder
Theatrical Release:
April 13, 2007
DVD Release:
July 31, 2007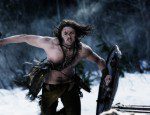 Synopsis
In an untamed, primordial America, 500 years before Columbus will reach its shores, unfolds an epic battle between love and hate that will change one man's destiny and the future of a nation: PATHFINDER. This action-adventure saga recreates one of the most riveting, yet never-before-seen, eras in human history – when Viking "dragon" ships from the mysterious Norse lands arrived out of nowhere to invade a pristine North America. Inspired by historical findings, yet forged with the magic and style of a modern graphic novel, PATHFINDER comes to life in a cinematic experience filled with intense and primal action.
Dove Review
The idea behind "Pathfinder" could have made for a pretty decent movie; unfortunately, the plot wasn't enough to distract from the cheesy dialog, bad acting, and obnoxious scenes of Vikings slaughtering Native Americans. I found it slightly offensive that the only person who can protect the Native Americans from the Viking invaders is a Viking who was left behind as a child, growing up with the natives. The Vikings' swords and iron weapons are what make them a superior fighting force. However, despite the fact that this white guy is no better trained in using a sword than the Native Americans who raised him, apparently some sort of racial instinct kicks in, because he is the only one who grabs a sword from a dead Viking and uses it for defense. This seems like a put-down to the Native Americans.
There was almost no foul language or explicit sex in this movie; however, the director definitely went out of his way to make the violence more graphic than it needed to be. Due to gratuitous violence, "Pathfinder" cannot be approved by Dove.
Info
Company:
20th Century Fox
Writer:
Laeta Kalogridis and Nils Gaup