Beautiful Dreamer
Theatrical Release:
October 11, 2006
DVD Release:
January 28, 2008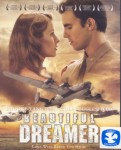 Synopsis
At a time when America was changing forever, Claire Kelly was sure her world had been torn apart when she lost her husband Joe Kelly , to the ravages of war. Joe, A B-24 pilot, taught to fly as a boy by his beloved grandfather, is shot sown over Europe during WWII and declared dead. Two years later, Claire finds Joe in a small town and she is shocked the he doesn't remember her. Claire consults with Dr Kessler, a specialist in war related trauma, who tells Claire to proceed very carefully – even though her presence seems to please Joe, it could ultimately destroy him. In a moving act of selflessness, Claire decides to walk away forever to give fate the opportunity to run its course.
Dove Review
"Beautiful Dreamer" is a great war movie that focuses on the love of a wife who refuses to believe that her husband is lost at war. The movie is very clean as far as war movies go. The viewer does not see much violence and the producer keeps the focus mainly on the couple instead of the war. The woman shows great strength and hope in the film and determination to find her husband. Refusing to believe that he was gone, she sets out to find him.
This film is heartwarming and is really good at helping you to feel the pain and joy of the characters.You will feel like you are going through the situations with them.
Info
Company:
Dotts Starduster, LLC