Redline
Theatrical Release:
April 13, 2007
DVD Release:
August 21, 2007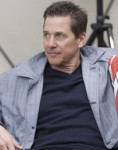 Synopsis
Eddie Griffin and Nathan Phillips put the pedal to the metal in stunt coordinator-turned-director Andy Cheng's supercharged auto thriller. In addition to featuring a score (and cameo) by hip-hop icon Wyclef Jean, Redline was produced by real-estate developer-turned-producer Daniel Sedak – who not only financed the $26 million dollar film, but also donated his personal car collection to the production. Featured automobiles include Sedak's Lamborghini Murcielago, Enzo Ferrari, Ferrari F430, Ferrari Scaglietti Phantom, and two McLarens. In a bid to increase the realism of the driving scenes, one of Sedak's two $200,000 Porsche Carrera GTs was set to be destroyed for the film.
Dove Review
There is no doubt that the best thing about this movie is eye candy in the form of slick race cars parading across the screen. Unfortunately the viewer is also subjected to 90 minutes of lame dialog, uninspired car chase scenes and idiotic plot developments. It was obvious that the producers spent all their money on the cars for this film and had nothing left for a script or A-list actors. Instead, they filled the movie with pretty cars and pretty girls. The lead female character is supposed to be smart and spunky, but I couldn't help but wonder why she spent her time in an environment where the women sit around in bikinis while the men play poker and bet on race cars. Most of the women in this film look like they rolled right off the cars and out of the pages of "Sports Car Monthly."
This film is not Dove-approved and I wouldn't recommend it for family viewing. While it is not overly graphic in most of our categories, I am very concerned about the way it glorifies speeding and street racing. There were endless scenes of reckless driving and camera shots of the speedometer going over 200 mph. Except for the two deaths noted below there are no consequences for this behavior. In fact the filmmakers take more than one opportunity to thumb their noses at law enforcement and those concerned with safety. Don't waste your money on this inane film. If you must gawk at sports cars go buy a calendar!
Info
Company:
Chicago Releasing
Writer:
Robert Foreman and Daniel Sadek