The Green Road
Theatrical Release:
April 3, 2007
DVD Release:
April 3, 2007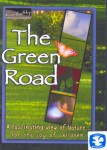 Synopsis
Inspired by Nature, The Green Road is a visual, musical and poetic composition. The journey down The Green Road, is divided in sections while actions flow with melodies and harmonies created to complement the beauty of Nature and its enhanced elements. Experience leaves, flowers, and many other elements of Nature as magnificent pieces of art while being enchanted by a dazzling original musical score, which transports the viewer into the magic.
Packed with discoveries, this film opens up creativity and shows children how much is out there to appreciate. The Movie gives children a tour through nature, inviting them to observe and acknowledge the real world that surrounds us all, focusing on the tiniest of details all the way to the grandness of the whole. Also, it nourishes their curiosity and ability to view things from different perspectives. A new vision of nature is presented beyond the ordinary based upon real images, not cartoons or animation. Nevertheless, the video does utilize a touch of fantasy that gives a sense of enchantment to the whole movie.
Dove Review
"The Green Road" includes contemporary music and incorporates natural scenery. The film was entertaining for my two and five-year old. The narrator has a kind, happy voice which my children enjoyed. The film contains several " roads" that were followed, like the road to woods, leaves, butterflies, flowers and water. This is great for young children, with great scenery, music and animals. You don't need to worry about what they will see or hear as it is very wholesome. So sit back and relax as your children enjoy this film. You might even enjoy it with them.
Info
Company:
Art of Doing Productions
Industry Rating:
Not Rated