Year of the Dog
Theatrical Release:
April 13, 2007
DVD Release:
August 28, 2007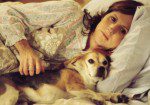 Synopsis
Peggy and Pencil are inseparable companions. They sleep together, eat together, and even take-in Friday night movies together. Life is uncomplicated and safe, and although Pencil is a Beagle, Peggy is happily entrenched in a satisfying relationship of co-dependency with her beloved pet. But with love comes loss, and Peggy's world comes crashing down when Pencil meets a mysterious demise in the neighbor's yard. Left to pick-up the pieces of her shattered life, Peggy embarks on a personal journey to fill the void. Friends, family and co-workers try to distract Peggy from her misery with their own obsessive quests for happiness, but in the end, she emerges from her loss with a new found sense of her place in the world and what it takes to make her happy.
Dove Review
"Year of the Dog" is a bit of everything good and bad about movies. First the good. It was genuinely funny in spots, as it deals with an overprotective mother, and a sensitive woman who meets a sensitive man and they both have a love for animals. Molly Shannon plays quirky and strange very well and Peter Sarsgaard is excellent as the sensitive dog lover who has a hang-up. However, the woman's increasingly extreme behavior becomes difficult to fathom and she attempts to seriously hurt someone in the film. It seemed to me that the director was trying to say it is all right to have strong beliefs in protecting animals and in being a vegetarian if you choose, but one can become ridiculous in how one treats other people over these issues.
The movie is somber in spots as a few characters lose their cherished animals and one character steals from her employer to support an animal rights group. However, she is caught and since it is her first indiscretion during a long tenure, she is allowed to keep her job but she does have to pay the money back. The movie becomes less realistic and less satisfying as it moves along. It would have been nice had it gone the other way. The language in the film was surprisingly mild. Due to the mature theme and a couple of sexual remarks, we approve this movie for ages twelve and above.
Info
Company:
Paramount Vantage
Reviewer:
Edwin L. Carpenter