RSTC: Reserve Spy Training Corps
DVD Release:
December 1, 2006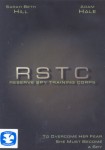 Synopsis
Filled with exciting action and uncompromising message, "RSTC:Reserve Spy Training Corps" delivers a thrilling spy movie for the Christian family. Liz is a high school student who is nearly paralyzed with fear. It doesn't help any that the boy she likes has a little secret…he is a member of the Reserve Spy Training Corps, a training program for high school students who want to pursue a career as a spy. Her dealings with him force her to face her fears…and overcome them with the Word of God. RSTC is an action-packed adventure delicately laced with scripture to entertain and instruct at the same time. With sensational performance by everyone involved, RSTC is a film your family will want to watch again and again.
Dove Review
When you think of a spies, one thinks of good guys, bad guys, car chases, explosions, and mystery. This story gives you all those ingredients plus more. The movie gives you great entertainment for the entire family and some advice on how to overcome fear.
We easily approve this movie for family viewing and we award it the Dove Seal of Approval. You do not have to worry about obscene language, embarrassing sexual situations, or over-the-top violence. Enjoy this with the family and some popcorn.
Info
Company:
By the Rivers Side Films
Industry Rating:
Not Rated