Christmas Is Here Again
DVD Release:
October 7, 2008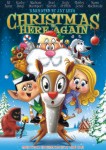 Synopsis
A musical tale that follows the exciting journey of a young orphan girl, Sophianna and her unlikely band of adventures as they help discover Santa's magical toy sack. Throughout her pursuit for the elusive sack, Sophianna teams up with a feisty elf, an ambitious young reindeer, and a fox polar bear duo. In the tradition of "The Wizard of OZ", Our young heroine and her allies each discover their potential for compassion, loyalty and the importance of never losing hope.
Dove Review
Sophianna, a mildly disabled orphan, befriends a frightened caterpillar and, together, they have the adventure of a lifetime. In this animated musical video we see that children hold the hopes and dreams of tomorrow.
The Biblical references to St. Luke's account of the birth of Jesus is mentioned a few times and its significance to Santa's magic sack and the reminder of why gifts are given on Christmas is told too. The video shows the viewer more than once that dreams really do come true and, sometimes, in amazing ways. The all-star cast of voice-over personalities are wonderful and music is delightful. This DVD teaches some good life lessons. We approve it for all ages and we award it five doves.