Strawberry Shortcake: Berry Blossom Festival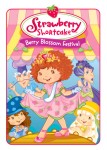 Synopsis
You are cordially invited to a berrylicious celebration starring Strawberry Shortcake and all her friends! It's a berry beautiful day in Strawberry land, the perfect day for Strawberry Shortcake to hold the first annual Berry Blossom Festival! And what better way to get ready than at a tea party with all her friends. But as soon as Strawberry Shortcake starts to enjoy her delicious treats, one friend announces that manners don't matter. Then, at the festival, another friend decides that she will be crowned Queen of the Festival – even if it means breaking all the rules! Will anyone ever play nicely again? If anyone can save the day and bring good behavior back to Strawberry land, it's definitely Strawberry Shortcake!
Dove Review
In the first story we see how Strawberry Shortcake and her friends try to show Raspberry Tart how to use good manners. What a delightful way to teach our children and remind adults that manners really do matter!
In "Berry Blossom Festival" we learn that cheaters never win and, the minute they cheat, they're already lost. This Strawberry Shortcake DVD incorporates delightful music and life lessons to live by. Watching this DVD is time well spent. We award this program five doves.
Info
Company:
20th Century Fox Home Ent.