Georgia Rule
Theatrical Release:
May 11, 2007
DVD Release:
September 4, 2007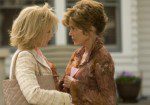 Synopsis
Three generations of top actresses unite in a film about the power of redemption, freedom in forgiveness and the unbreakable bonds of motherhood — Georgia Rule. And in this family, attitude doesn't skip a generation.
Rebellious teenager Rachel (LINDSAY LOHAN, Mean Girls, A Prairie Home Companion) screams, swears, drinks, says whatever is on her mind and is just generally uncontrollable. With her latest car crash, Rachel has broken the final rule in mom Lilly's (Golden Globe winner FELICITY HUFFMAN, Transamerica, television's Desperate Housewives) San Francisco home. With nowhere else to take the impulsive and rambunctious girl, Lilly hauls her daughter to the one place she swore she'd never return…her own mother's Idaho home.
Matriarch Georgia (two-time Oscar winner JANE FONDA, Monster-in-Law, 9 to 5) is not your typical sweet and doting grandmother. She lives her life by a number of unbreakable rules, demanding that anyone she invites into her home do the same – God comes first and hard work a very close second. Now saddled with raising the young woman, it will require each patient breath she takes to understand the reasons behind Rachel's fury.
Dove Review
"Georgia Rule" confronts some serious issues like child molestation and the lack of communication between mothers and daughters. The three main leads in this film (Fonda, Lohan and Huffman) all turn in good performances. Lohan was able to convincingly play both rebel and a vulnerable sweet young lady.
It is possible that those of the Mormon faith who see this film may be offended as it has a scene in which a young Mormon man has a sexual encounter with a female character in the story, and once his girlfriend finds out she sends her Mormon girlfriends out to spy on him. Ultimately, this naughty female threatens to corrupt all the girls' boyfriends if they don't quit spying on her.
There are several sexual innuendos and frank discussions of sex in the movie, along with strong language which prevents us from approving this film and from awarding it our Dove Seal.
Info
Company:
Universal Pictures
Reviewer:
Edwin L. Carpenter