The Ex
Theatrical Release:
May 11, 2007
DVD Release:
August 21, 2007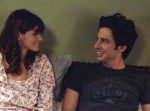 Synopsis
Tom Reilly (Zach Braff) is a bit of an underachiever when it comes to his career (or lack thereof), but his adoring wife Sofia (Amanda Peet), a formidable lawyer, has always been happy to act as the breadwinner. With the birth of their first child, Sofia decides she wants to be a stay-at-home mom so Tom needs to step up and take care of his growing family. Unfortunately he gets fired from his job in New York City and is forced to start working with his father-in-law (Charles Grodin) in Sofia's hometown of Ohio. Tom soon clashes with his work colleagues, especially the outrageous Chip (Jason Bateman), who still carries a torch for Sofia from their high school days, and Sofia becomes increasingly uncomfortable staying home with their new baby. But in a comedy about doing the right thing for all the wrong reasons, the couple needs to get back to what they're good at before their model family goes completely off track.
Dove Review
Language aside, this is a very funny and poignant movie. New parents Tom and Sofia are having a hard time finding happiness with social norms, leaving them at odds with each other. When Sofia's ex-boyfriend becomes part of Tom and Sofia's lives, chaos ensues and they are forced to be honest with themselves and each other.
This film was not Dove approved due to the language. Dove will not approve any film that uses the F word or that takes the Lord's name in vain. In addition, there was a lot of discussion about sex, mainly how the handicapped participate in sexual activities. There were also discussions about making a joke and not realizing it was offensive to the other person. The film "The Ex" is not approved due to the language used and the fact it rates a three in sex in our content listing below.
Info
Writer:
David Guion and Michael Handelman