The Parable of the Christ
Theatrical Release:
December 12, 2006
DVD Release:
December 12, 2006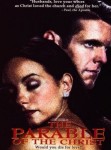 Synopsis
How far would you go for love when the one you cherish hurts you beyond repair? Would you hurt back? Or would you love back? Would love change things? Josh (Mick Shane) is about to find out. He must sacrifice it all, even his own life, for the only woman he has ever loved, Violet (Sylvie Hoffer).
With an "otherwordly" twist that will move you beyond words, THE PARABLE OF THE CHRIST proves to be the greatest love story ever told!
Dove Review
This allegorical story of Christ's love for the church in laying down his life is a story that the viewer will understand through the allegory itself, or through scripture. A viewer with little or no Biblical background may become a bit confused as to the deeper meaning of the story. There are scriptures used during a wedding and near the end of the film to reinforce the deeper meaning of this film, but if a viewer watched only the beginning part of the movie, he/she might think it is simply a story about a man in love with a prostitute.
This story not only has its roots in the idea of Christ's love for his bride, the church, found in the book of Ephesians chapter five, particularly verse twenty five, but it also parallels the Old Testament story of Hosea's love for Gomer, who was a prostitute yet she was loved by Hosea unconditionally. One of the main characters in this story is a prostitute but she is loved by a man and that love changes her. There is remorse by the character and a price to pay for past sins. We do cautiously approve this DVD for ages twelve and above, due to its central theme of unconditional love and its Biblical allegory. Other than some johns visiting the woman in the beginning, which is not shown gratuitously, the film is wholesome with little other content concerns. As far as quality in the production, it is pretty good and Mick Shane is outstanding as Josh, the man who is willing to lay down his life for love.
Info
Company:
Harvest Entertainment Group
Reviewer:
Edwin L. Carpenter