Wonder of It All
DVD Release:
January 1, 2003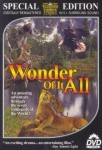 Synopsis
Come with us on a magic carpet ride around the world in a beautiful and fascinating new family film. It took seven years of filming spanning seven Continents of the world's rarest, funniest and most exciting animals. It is an odyssey of great scope, action and adventure filmed in brilliant 35 mm with spellbinding scenery of some of the actual Wonders of the World. One moment you are watching beautiful Birds of Paradise, then Black Panthers at twilight, Gibbons swinging through the treetops, Emperor Penguins leaping like trampoline artists on floating ice in the Arctic Ocean and escaping Killer Seals. See rare Manhurain Dancing Cranes. This is a passport to a once-in-a-lifetime adventure that you will always remember.
Dove Review
Oh, the " Wonder Of It All" just to see all the natural wonders that have been created for us to enjoy, This film does a wonderful job of taking you through some of the great natural wonders of the world, like the Grand Canyon and the viewer gets to visit waterfalls and wildlife. You almost feel like you are there. Parents and children of all ages will be able to enjoy this film together and learn many facts about the natural wonders and wildlife. The film is well but together and covers a variety of topics. It is very educational.
Info
Company:
Pacific International Ent Inc.
Starring:
Narrated by Les Biegel