Mystery Mansion
DVD Release:
January 1, 2003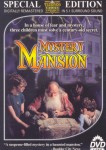 Synopsis
A century old mystery involving a haunted house, a missing girl's locket and treasure chest of gold draws three children into a dangerous and suspenseful adventure.
The past and present become linked by a missing girl's locket found in an old mansion filled with fear. When a legendary bank robbery goes astray, an innocent family perishes and a treasure chest of gold disappears along with the family's youngest daughter. Over one hundred years later, three children, two outlaws and an old man inadvertently unlock the secret of the "Mystery Mansion. Filmed in the historic old mining town of Jacksonville, Oregon.
Dove Review
"Mystery Mansion" is a pretty cute movie for the super sleuths in your house. Although the acting was far from stellar, the actual story was good and the movie contained some nice, redeeming footage of mountains, rivers and wilderness.
There were quite a few uses of the words shut-up, stupid, and dang and a couple of the characters were a bit rough around the edges to one another and to others. The children trespass into the mystery mansion, and some convicts steal clothing, push an old man and point a gun at the kids and another man.
Overall, "Mystery Mansion" is wholesome and it earns Dove's seal of approval for family-friendly viewing.
Info
Company:
Pacific International Ent Inc.
Writer:
David E. Jackson and Jack Duggan and Arn Wihtol