Across the Great Divide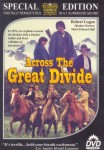 Synopsis
From the producer of the Wildness Family Classics comes another epic adventure. Set in 1876, this is the inspirational tale of two orphans abandoned in the wilderness after the death of the grandfather. Alone, they set out for Oregon to claim their rightful inheritance, a 400-acre ranch on the other side of the rugged, snow-covered Rocky Mountains. On the way, they meet an irresistible con-man whose deceptions and trickery are legendary. Bound together by fate and necessity, they form an unlikely group, overcoming incredible obstacles to survive their journey of a lifetime.
Dove Review
Two kids take a journey across the land to Oregon. They are not quite sure how they will get there until they run into Mr.Coop. They are not so sure about him but thankfully he tags along and helps them out when they desperately need it. This may be a little scary for younger viewers for there are some parts in which a bear chases Mr. Coop, wolves attack a dog, and a mountain lion attack as well. Also, one character becomes inebriated. This a great story about how the kids learn to trust people and Dove approves the film for family viewing.
Info
Company:
Pacific International Ent Inc.
Reviewer:
Hannah Randolph