Windwalker
Theatrical Release:
February 1, 2006
DVD Release:
February 1, 2006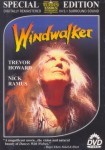 Synopsis
Lying on his death bed, the aging Cheyenne Warrior, "Windwalker," tells his life's story to his small grandchildren. He recounts his years as a young brave, marriage to beautiful Tashina, the blessing of having twins sons born to them and his anguish at having Tashina Die and one of the babies stolen during a raid by Crow warriors. After Windwalker dies, the Great Spirit reawakens him for one final mission.
Dove Review
This movie is about a group of Cheyenne Indians set in the late 1700's. At the beginning an older gentleman is sick and not getting better. He starts to tell his grandchildren about his childhood and things that happened to him as he was growing up and throughout his adult life. The main part of the story is about how he had twin sons and how one of them got taken away by an enemy tribe, The Crows. Through out the movie there are conflicts between the Cheyenne Indians and the Crows. The scenery as well as the music is well done in the DVD.
Content Description
Nudity:
The bottoms of children, maybe three years old; and the front private area of one of the boys just for a moment: also shows a woman walking into the water and she is lifting her dress up just above the bottom of her undergarments.
Info
Company:
Pacific International Ent Inc.