Away from Her
Theatrical Release:
May 25, 2007
DVD Release:
September 11, 2007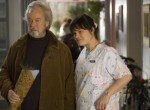 Synopsis
"Away From Her" is the lyrical screenplay adaptation of celebrated author Alice Munro's short story "The Bear Came Over the Mountain." A beautifully moving love story that deals with memory and the circuitous, unnameable paths of a long marriage. Married for almost 50 years, Grant (Gordon Pinsent) and Fiona's (Julie Christie) commitment to each other appears unwavering, and their everyday life is full of tenderness and humor. This serenity is broken only by the occasional, carefully restrained reference to the past, giving a sense that this marriage may not always have been such a fairy tale. This tendency of Fiona's to make such references, along with her increasingly evident memory loss, creates a tension that is usually brushed off casually by both of them. As the lapses become more obvious and dramatic, it is no longer possible for either of them to ignore the fact that Fiona is suffering from Alzheimer's disease.
Dove Review
This film is a moving psychological drama in which a husband and wife, married for forty four years, must learn to let go of one another after the wife is diagnosed with Alzheimer's. The film includes strong performances from both Julie Christie as Fiona, and Gordon Pinsent as Grant.
From the beginning of the film, when Fiona places a frying pan into the freezer to the last shot of the movie, the film encompasses a wide range of emotions. This includes the feeling of loss when Grant places Fiona into a care facility, to which she has agreed to, to seeing her become friendly with a male resident. The brief times her memory is illuminated is as painful as it is welcome. Unfortunately, the film has two strong profanities and a night of adultery between two characters, and therefore cannot received our Dove-Family Approved Seal.
Info
Writer:
Sarah Polley and Alice Munro
Reviewer:
Edwin L. Carpenter