Gracie
Theatrical Release:
June 1, 2007
DVD Release:
September 18, 2007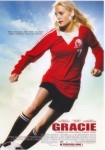 Synopsis
A teenager faces an uphill battle when she fights to give women the opportunity to play competitive soccer. Based on the real-life story of Elisabeth Shue when she was a girl.
Set in 1978 and inspired by real life events in the Shue family, "Gracie" is the story of a sixteen year-old girl who, after a family tragedy changed her life, fought for and won the right for girls everywhere to play competitive team soccer.
Dove Review
This is an inspirational story, based on the teen life of actress Elizabeth Shue who, following the loss of her older brother in an auto accident, becomes determined to play soccer on the boy's team he played on. Carly Shroeder, the actress who plays Gracie, does a great job and portrays a spitfire very well in addition to the pain and grief of loss following her brother's death. Gracie has many obstacles to overcome to make the team, and the audience will begin to cheer for her as she achieves her goals step by step, improving enough to play alongside the guys. There are times she is hurt during the rough play and she eats grass more than once, but she keeps getting back up.
Gracie does go through a rebellious period following the death of her brother, and she tries smoking as well as shoplifting, but these are isolated incidents and her attitude improves as her father spends more time with her. There are several utterances of language, but fortunately it doesn't hit a three in language on our content chart, which would have prevented it from being approved. It does rate a two. This inspiring story will be enjoyed by family members ages twelve and above, the ages we approve it for due to a few mature themes and the language. The film will encourage the viewer that there are young adults and teens in the world who know how to persevere and reach a goal. And sometimes a very difficult one. That alone is a satisfying thing to see in a film these days. There is a shining moment which occurs at the end but we won't give it away. So forget the soccer field for a moment and head to the theater to see this inspirational, fact-based film!
Info
Company:
Picturehouse Entertainment
Writer:
Lisa Marie Petersen and Karen Janszen and Andrew Shue and Davis Guggenheim
Reviewer:
Edwin L. Carpenter