Knocked Up
Theatrical Release:
June 1, 2007
DVD Release:
September 25, 2007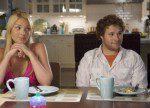 Synopsis
Allison Scott (Heigl) is an up-and-coming entertainment journalist whose 24-year-old life is on the fast track. But it gets seriously derailed when a drunken one-nighter with slacker Ben Stone (Rogen) results in an unwanted pregnancy. Faced with the prospect of going it alone or getting to know the baby's father, Allison decides to give the lovable doof a chance.
Dove Review
At the heart of this film is a good story about making the best out of a bad situation and doing what is right. However, this movie, "Knocked Up", was not approved by Dove for several reasons, including sexuality, language, nudity, and drug use throughout the film. After a one-night stand, an un-likely couple find themselves facing a pregnancy. After deciding to have the child, they begin the process of getting to know each other while dealing with their fears regarding becoming new parents. Anyone who has found themselves in a long-term dating relationship or marriage will be able to empathize and laugh along with the issues faced by the couples within the film.
However, the premise of the film is a couple who become pregnant after a one-night stand, an action not condoned by Dove. They continue to have sex outside of marriage and there is also two women giving two men lap dances as well. In addition, there is repeated nudity as they are discussing opening a pornographic website. The F word is prevalent throughout the film as well as other inappropriate language. There is also frequent drug use through the film but in the end the man does discover that this is wrong.
Info
Company:
Universal Pictures