Hostel: Part ll
Theatrical Release:
June 8, 2007
DVD Release:
October 23, 2007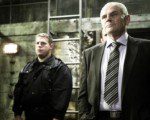 Synopsis
The sequel focuses on three girls who are studying in Italy for the summer and they get lured back to a lot of familiar places. It turns out that the Slovakian stopover is actually part of a chain and you'll see the ins and outs of the whole organization and how they get people and kill them. "Hostel 2" starts immediately where the first film left off.
Dove Review
"Hostel: Part ll" isn't approved by Dove for several reasons including violence, language, and sexuality throughout the film. In this movie American students traveling through Europe are sold to the highest bidder so that people can fulfill their violent fantasies. While the sequel was not as gory as the original, there were still multiple instances of violence. Despite the subject matter, the film is well acted and the cinematography is great.
The premise of the film, violence, is a theme not approved. There is bloody violence throughout the film, as well as nude men and women. The F word is prevalent throughout the film as well as other inappropriate language. There is also drug use through the film.