The Rockimals – 70s Classic Hits
DVD Release:
January 1, 2005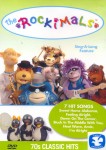 Synopsis
Meet The Rockimals: Vibe, Shakes, Aria, and Jive! together they're the most adorable singing puppet band on earth! They explore different eras and styles in popular music, recreating classic hits from Rhythmand Blues, Country, Funk, good old-fashioned Rock'N'Roll and more. Parents will love sharing this music with their children, as well as the engaging stories lines, charming puppetry, and hilarious antics. So join the fun and come along on a fantastic musical journey. With sing-a-long feature.
Songs: Sweet Home Alabama; Feelin Alright; Down On The Corner; Stuck in the Middle With You; Heat Wave; Amie; I'm Alright
Dove Review
Thanks to their time machine, Shakes, Jive, Aria, Berkley, Natty and Dr Tunes travel back in time to the 70s. These characters make up the band, "Rockimals". In the 70s they sing and perform southern rock style music, such classics as "Sweet Home Alabama", "Heat Wave", and "Stuck in the Middle with You" will have you tapping your toes and singing along. The Rockimals employ cheeseburgers, hillbilly pigs, dancing chickens and crustaceans, to name a few, as back-up singers. This DVD is really cute and the music will bring back fond memories for some and make new ones for the younger people. We award "Rockimals" five doves!