Harold and the Purple Crayon: Let your Imagination Soar
Theatrical Release:
May 22, 2007
DVD Release:
May 22, 2007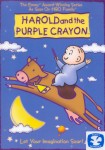 Synopsis
Based on the classic book, these adventures star Harold an inventive and curious toddler with thoughts, desires and feelings of any child his age. In his Crayon World, Harold can muse on questions that all yound children naturally wonder about, and he can come up with his own answers. But it is not the crayon that is magic. The crayon is merely the key to unlock the power of Harold's imagination.
Dove Review
In this film your child will learn to use his/her imagination. The film contains upbeat music, fun adventures and a soothing narrative voice which is very calming for your child. There are several episodes on this DVD to choose from and they are all family friendly and great for your children to learn from. Some of the things your child will learn about are:dinosaurs, forgiveness, friendship, circles, animals and darkness.
The producers of "Harold and the Purple Crayon "did a wonderful job of following the story books and keeping the films interesting. The narrator they picked does a wonderful job as her voice is very nice to listen to and will calm your child down as her voice is also very peaceful. So sit back and enjoy the wonderful adventures of Harold and his Purple Crayon.
Info
Company:
Sony Pictures Home Entertainment
Starring:
Narrated by: Sharon Stone