Its a Big Big World: The Earth Needs You
DVD Release:
May 22, 2007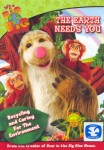 Synopsis
It's a Big Big World" takes place in the beautiful World Tree, set in a rain forest, where Snook, A charismatic sloth, lives with his diverse group of animal friends. Together they investigate the world around them and discover how different things live, grow and change. This patented "Shadowmation" technique combines puppetry and computer graphics to bring the characters and their environment to life.
Dove Review
This DVD is a compilation of five episodes of the children's television show "It's a Big, Big World". The puppet characters are endearing as each one has its own personality and quirks that range from an ant-eater that doesn't eat ants to a frog that is afraid of bees. The quality is superb and the lessons about nature and the environment are wonderful.
"The Earth Needs You" is made up of episodes that have a strong focus on ecology, conservation, and basic environmentalism. The only episode that I had a few issues with was the first one, "World Tree Day". It implied that trees have feelings and are in need of hugs and love. As this borders on extreme environmentalism, I thought it was very worthy of mention. Other than that, "It's a Big, Big World: The Earth Needs You" teaches several valuable lessons about being a responsible resident of the earth and is happily approved by Dove.
Info
Company:
Sony Pictures Home Entertainment
Industry Rating:
Not Rated