DOA: Dead Or Alive
Theatrical Release:
June 15, 2007
DVD Release:
September 11, 2007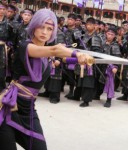 Synopsis
Based on Tecmo's best-selling "Dead or Alive" videogame franchise, DOA: Dead or Alive features four beautiful women who begin as rivals in a secret invitational-only martial arts contest, but find themselves teaming up with one another against a sinister force. Tina Armstrong, played by Jaime Pressly, is a superstar in the world of women's wrestling. Christie, played by best-selling pop recording artist and actor Holly Valance, is a beautiful cat-thief and assassin-for-hire. Princess Kasumi, played by international fashion model and actor Devon Aoki, is an Asian warrior-aristocrat, schooled by martial arts masters. Helena Douglas, played by Sarah Carter, is an extreme sports athlete whose tragic past binds her to the remote palace in Southeast Asia where the Dead or Alive tournament takes place.
Dove Review
The film, "DOA: Dead or Alive" was an action film reminiscent of the "Mortal Kombat" games from the nineties. With a variety of characters, each present at the competition for a different reason, and McG-style directing, the film moves along quickly and is action-packed from the word go. The action sequences were very interesting, varied, and often-featured swords or no weapons at all.
The film was not approved for a few reasons. The first reason the film was not approved was because of the sheer amount of violence. There was so much that it was impossible to number individual instances, however none of it was bloody and, despite the title of the film, only two people lost their lives. As is too often the case with these types of films, the other reason the film is not approved is because of the amount of nudity. It seemed as though all the men were often shirtless and the women were usually clad in very skimpy bikinis. In addition, there was full nudity shown with both sexes, even though offending body parts were covered.
Info
Writer:
J.F. Lawton and Adam Gross and Seth Gross