The Bible Boat: Good News
DVD Release:
July 8, 2007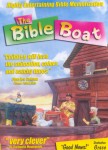 Synopsis
On this voyage Daniel Duck, who thinks that earning "heaven points" by doing good deeds will win him a place in heaven, is worn out from all the nice things he is constantly doing. Captain Jay shares the good news of the gospel with him, which Daniel resists at first.
Meanwhile, Alby buys a costly old sea chest on Ebay and spends her time trying to open it through various hilariously explosive means. The longer it takes to open, the greater the imagined riches inside become. Daniel eventually realizes that the Gospel is a free gift and prays to receive Christ. In fact, he goes on to share the Good News with others. Alby is surprised, but not ready to make the same commitment. When she finally gets the chest open, only dusty old moths fly out!
Dove Review
This creative charming DVD will help teach your children or anyone Bible verses and their meanings. Captain Jay and Daniel Duck, along with a few of their friends, will teach you a very important verse from the Book of John and the 3rd, 4th and 5th commandments.
The entire family will enjoy the music and comedy of "The Bible Boat" members as they take you on this cruise of "Good News and Grace".
Info
Company:
Cornerstone Family Ent.