Eve and the Fire Horse
Theatrical Release:
July 7, 2007
DVD Release:
July 24, 2007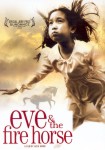 Synopsis
Eve is a precocious nine year-old girl with a wild imagination growing up in a traditional Chinese immigrant family in Vancouver where Confucian doctrines, superstitious obsessions and divine visions abound. When Buddhism and Catholicism are thrown into the mix, life for Eve and her 11- year-old prim and authoritative sister, Karena, escalates into a fantasia of catastrophe, sainthood and cultural confusion.
Dove Review
"Eve and the Fire Horse" is a somewhat oddly intriguing movie. It shows the struggle of two Chinese sisters as they struggle to find "faith" through a mix of Buddhism, Catholicism and teachings of the Jehovah's Witnesses. Some of the scenes might seem sacrilegious, but I don't think that was the filmmaker's intention. One example of this is a daydream that the youngest sister has of Jesus and Buddha dancing. But this mixture of faiths should be noted.
There is also a small vein throughout the movie that deals with racism and a few racially derogatory words are used such as "chink" and "towel head". Also, parents should know that in one scene a little girl gives someone the finger. Although it has a strange flavor to it, "Eve and the Fire Horse" could easily open the door to some great discussion about religion and faith, no matter where you stand personally. Dove approves this movie for some interesting family viewing!
Info
Company:
Red Storm Productions