The Christmas Miracle of Jonathan Toomey
DVD Release:
September 1, 2007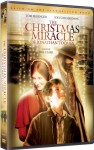 Synopsis
Based on the best-selling holiday book by Susan Wojciehowski which comes to life in what is soon to be a holiday classic. When a broken-hearted boy loses the treasured wooden nativity set that links him to his dead father his worried mother persuades a lonely ill-tempered woodcarver to create a replacement, and to allow her son to watch him work on it. The commission takes their relationship to unexpected places as the young client makes greater and more difficult demands of the woodcarver's demands on the woodcarver's ability, and as Christmas approaches, the three struggle to come to terms with each other, their painful memories and the process of putting their unhappiness behind them.
Dove Review
The mark of a great Christmas film is when it can be viewed at any time of the year and not feel out of season. This film, recipient of our Dove Seal, accomplishes this beautifully. Based upon the popular children's book, the film chronicles the struggles of Thomas and his mother who are dealing with the recent loss of Thomas' father. They soon find themselves drawn to Jonathon Toomey, played masterfully by Tom Berenger, a man facing his own issues with loss. Each of the characters are very deep and well played, including the mother who makes her own mistakes as she struggles to help her son while dealing with her own hurt.
This movie has very little objectionable material. There is a small scuffle between boys, as well as some minor mischief when a boy enters a home without permission, is caught, and faces some consequences. While the film does deal with the death of a parent, it is done in such a way that it will not be upsetting to sensitive viewers. This is a great holiday film for every day of the year.
Info
Company:
Genius Products, Inc