Life on Liberty Street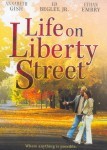 Synopsis
Anna Gish and Ethan Embry star in this heartwarming tale of forgiveness. After quitting a hospital nursing job over an injustice, divorcee Denise (Gish) reluctantly takes a temporary one at a rehabilitation facility for patients with brain injuries. In helping their newest resident, Rick ( Embry), a 25-year-old man who suffered a traumatic brain injury, a car accident in high school, she learns that sometimes the patient can heal the healer and begins to start her own life over again. Five-time Emmy(R) nominee Ed Bagley, Jr. stars as Rick's overprotective father who clashes with Denise repeatedly as she tries to help Rick gain his independence. All the while, Denise finds herself attracted to the center's single and handsome doctor but does her best to keep from falling in love. It's the story where anything is possible.
Dove Review
This is a great family friendly film. The acting was good and the story line was great. The characters really get you to feel for them. One boy who suffers from a brain injury longs for his father's acceptance and finally gets it after his father reveals that he feels responsible for the accident that caused the injury. The relationship is wonderfully mended. The nurse also learns the importance of not running from bad situations and that it is better to face your problems rather than run from them.
This is a film you can sit down and enjoy with your children. We award our Dove Family-Approved Seal to the movie.
Info
Director:
David S. Cass, Sr.