Prayer Life
DVD Release:
January 22, 2008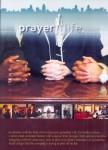 Synopsis
An attorney with the help of his religiously grounded wife, his no-nonsense computer hacker brother-in-law, and a corporate executive, struggling with his conscience is trying to prove his client's innocence in an accounting fraud charge that other company executives are trying to pin on her. As the story unfolds, the attorney uncovers an intricate trail by the Fortune 5600 company that includes blackmail and accounting fraud, all leading to corner the Asian poultry market. And in the process, the attorney finds his faith and his client rediscovers hers. Through his new found faith and investigative resources, he must try to get the charges dropped and his client's name cleared.
Dove Review
This intriguing story takes you into the drama surrounding an attorney's search for the truth for his client, while discovering faith in prayer. This gives the audience a look at how faith in prayer can lead anyone to the truth. The Christian community will enjoy this movie as it displays the power of prayer.
Sometimes people get so involved in their life that the faith they had goes by the wayside until something happens. This movie shows how one woman rediscovers her salvation and an attorney finds his. All the while one woman never gives up her faith in prayer to help them both.