Get Fit Together
Theatrical Release:
December 1, 2006
DVD Release:
June 1, 2007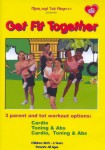 Synopsis
Get Fit Together helps you exercise while having fun with your kids. Share fun-time with your kids and do something great for yourself.
Get Fit Together is the perfect activity for your family. Your kids have energy, you need more energy, and everyone needs physical activity!
Get Fit Together is ideal for busy moms or dads. Workout options help your family fit exercise into a busy schedule
Get Fit Together has a great combination of music that everyone will enjoy. Colorful cartoon scenery provides stimulating backgrounds that hold children's attention.
Get Fit Together has easy-to-follow instructions and provides useful health and fitness information.
Get Fit Together gives you workout options:
Cardio
Toning and Abs
Cardio, Toning and Abs
Dove Review
This DVD will help you have fun with your little ones while all the while getting you in shape. It will also help you teach your children the importances of exercises and health. The entire family can enjoy time together with these fitness activities that make it more like play time.
Info
Company:
Mom and Tot Fitness, LLC