You Kill Me
Theatrical Release:
July 13, 2007
DVD Release:
October 9, 2007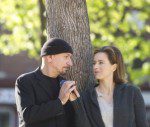 Synopsis
Frank Falenczyk (Ben Kingsley) loves his job. He just happens to be the hit-man for his Polish mob family in Buffalo, New York. But Frank's got a drinking problem and when he messes up a critical assignment that puts the family business in peril, his uncle (Philip Baker Hall) sends him to San Francisco to clean up his act. Played with gruff charm by Kingsley, Frank is not a touchy-feely kind of guy. But he starts going to AA meetings, gets a sponser (played by Luke Wilson) and a job at a mortuary where he falls for the tart-tongued Laurel (Tea Leoni), a woman who is dangerously devoid of boundaries. Meanwhile, things aren't going well in Buffalo where an upstart Irish gang is threatening the family business. When violence erupts, Frank is forced to return home and with an unlikely assist from Laurel, faces old rivals on new terms.
Dove Review
The theme of this picture seems to be that true love is blind, even when a man kills people for a living. Tea Leoni and Ben Kingsley do have good chemistry, but she accepts him as her character of Laurel, not only with his problem as an alcoholic, but also as a…is there such a word as a murderholic? Actually, Frank (Kingsley) only kills when directed to by his uncle and it bothers him that he has messed up a few times and not killed someone cleanly. There is a lot of strong language in the film, in addition to violence, and an almost nonchalant attitude toward murder. Kingsley seems to be playing a different type character in this departure from his usual roles as a sympathetic character (Gandhi for example). For the reasons already mentioned, we cannot approve this film for family viewing.
Content Description
Language:
GD-2; J-2; G-1; F-21; H-6; S-9; A-7; SOB-1; Slang for male and female genitalia and another genitalia-related comment-3; Slang for love making-1
Drugs:
A lot of scenes of alcohol consumption as the main character is an alcoholic; groups of AA members are seen a few times; smoking.
Info
Writer:
Christopher Markus and Stephen McFeely
Reviewer:
Edwin L. Carpenter