Introducing the Dwights
Theatrical Release:
August 3, 2007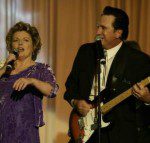 Synopsis
"Introducing the Dwights" is a heartfelt comedy about a mother who tries to come between her son and his coming of age. Tim's mom, Jean, is a bawdy and risqué comedienne still hoping to make it big. His brother Mark helps their mother rehearse for shows. Together, they inhabit a non-traditional household where chaos is the norm, the music is always on, and Jean's larger-than-life personality takes center stage. When Tim meets and falls for Jill, his home becomes a combat zone as his mother fears this new girl, whose name she refuses to remember, will "break up" the unique family unit she's tried so hard to keep together. In this quirky and oftentimes touching tale, Tim must learn to manage the emotions of the women of his life without losing himself in the process.
Dove Review
This movie focuses on young Tim, and is a coming-of-age story as well as a tale with a bit of humor, a touch of drama. Tim's domineering mother, a bawdy comedienne, resists the idea of Tim settling down with a girl he falls for, named Jill. Jill helps Tim to grow as an adult and his mother rebels, calling Jill "Samantha," the name of Tim's ex-girlfriend. Throw in a mentally impaired son and an ex-husband who makes country western recordings, and the tension mounts.
Although the film realistically makes some points about dealing with family changes, the language is very strong and there is upper female nudity, as well as partial rear nudity. Dove cannot award our Dove Seal to this film for family viewing.
Info
Company:
Warner Independent Pictures
Reviewer:
Edwin L. Carpenter