Patrick Henry: Quest for Freedom
Theatrical Release:
July 21, 2007
DVD Release:
July 21, 2007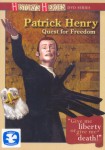 Synopsis
In the 3-D animation of "Patrick Henry: Quest for Freedom" we follow the events of Patrick Henry's life leading up to his stirring speech " Give me liberty or give me death." The eagle narrator, Boomer, opens the story by explaining the events that lead up to this moment. Patrick Henry gives his speech in St John's church to the Virginia delegates who include George Washington and Thomas Jefferson. While Patrick is giving his speech Boomer cunningly interjects to explain what was said to help younger viewers understand the more complicated concepts.
Dove Review
This colorful and entertaining yet educational animated story will encourage any child to investigate the history of Patrick Henry and his times. Boomer, the eagle, adds a delightful voice to help tell the details of the story. Filled with important historical facts, this is a fantastic way to help youngsters become interested in American history.
Info
Company:
American Animation Studios