Rescue Dawn
Theatrical Release:
July 27, 2007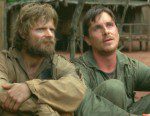 Synopsis
RESCUE DAWN marks the first truly American film from internationally acclaimed director Werner Herzog. Based on the true story of the courageous POW escapee Dieter Dengler, the film takes Herzog on an intense adventure into the dark heart of human peril, but comes out the other side with a heart-lifting sense of all that is meant by duty, honor and triumph over adversity.
Dove Review
This film draws the viewer in and keeps a suspenseful plot moving along. Quickly into the picture Dieter Dengler's (Christian Bale) plane is shot down in North Viet Nam and he is captured and put into a shack alongside some POWs who have been imprisoned for two years. The ensuing plot to escape escalates as the POWs are mistreated and divided on whether or not they should follow Dengler's escape plan.
The film is well directed and Christian Bale turns in a fine performance as do the other actors, including Jeremy Davies as Gene, and Steve Zahn as Duane. The musical score was outstanding too. In an interesting scene near the end, a character is asked what he learned from his POW experience. "Empty what is full, fill up what is empty, and scratch when you need to scratch." Humor aside, the comment on doing what is necessary is a wise statement. Unfortunately, the language is very strong and there are several scenes of violence, which prevents us from awarding it our Dove Seal as a family film. Also, we note below that a young child is seen smoking and it appears to be a drug.
Info
Reviewer:
Edwin L. Carpenter