Whos Your Caddy?
Theatrical Release:
July 27, 2007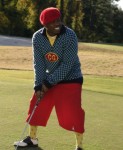 Synopsis
'Who's Your Caddy?' is a hilarious, fish-out-of-water comedy about superstar rap mogul, C-Note (Big Boi), who runs into fierce opposition when he tries to join the super stuffy Carolina Pines Golf and Country Club. Undeterred, C-Note gets the brilliant idea to buy the land adjacent to the golf club's 17th hole, which he cleverly leverages to gain membership. C-Note's crew wreaks havoc as they bring their larger-than-life style to the club. As the club's hoighty-toighty leadership desperately tries to revoke C-Note's membership, our hero realizes that his family's honor – and secret record-breaking golf history – is at stake. As he takes on the fight of his life, C-Note pulls out all of the stops to bring down the club's backwards establishment and welcome them to the 21st century.
Dove Review
A modern day "Caddy Shack" is the theme for this uproarious comedy about prejudice in a high class country club. Unfortunately, the lead character shows no self-control and he and his friends exhibit the stereo-typical behavior expected from a gangsta' rapper and his posse.
This could have been a touching "Win one for the old man" type of story. However, due to the extreme use of language, the tasteless sexual situations and the drug use and nudity, we cannot award our "Dove Family-Approved Seal".
Info
Writer:
Don Michael Paul and Bradley Allenstein and Robert Henny