Beyond The Gates (Unrated)
Theatrical Release:
March 9, 2007
DVD Release:
September 18, 2007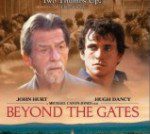 Synopsis
A teacher (Hugh Dancy) and a Catholic priest (John Hurt) in Africa find themselves caught in a heart-wrenching moral dilemma. In 1994, during the Rwandan genocide, the two foreigners must decide if they should stay and try to save as many Tutsis from Hutu killers as they can or if they should stay out of the conflict and flee for their own safety. Based on a true story.
Dove Review
This film, though containing some violent moments, is a powerful picture which will move most viewers. The story of genocide in Rwanda in 1994 is expertly executed by director Michael Caton-Jones, who brings to life flesh and blood characters we care about. These characters include the priest, Father Christopher (John Hurt), and the young teacher Joe (Hugh Dancy). In fact, the acting is one of the film's strengths. It is a story of staring death in the face, of fear, and of sacrifice. In a nice touch at the end there are photos displayed of some of the survivors of the blood bath in Rwanda, and we are told how they participated and helped make the film. We also learn about many of their relatives who were killed by the Militias.
There are scenes of violence in the film, with some blood and corpses shown, but the bloody scenes are not gratuitous. While the original version was rated R by the MPAA, this special unrated version has been edited in such a way that families including mature children can watch this honest yet horrific story. We award our Dove "Family-Edited" Seal to this picture and we commend the sacrificial theme, symbolized by a Christian character in the movie.
Info
Company:
20th Century Fox Home Ent.
Writer:
David Wolstencroft and Richard Alwyn and David Belton
Industry Rating:
Not Rated
Reviewer:
Edwin L. Carpenter